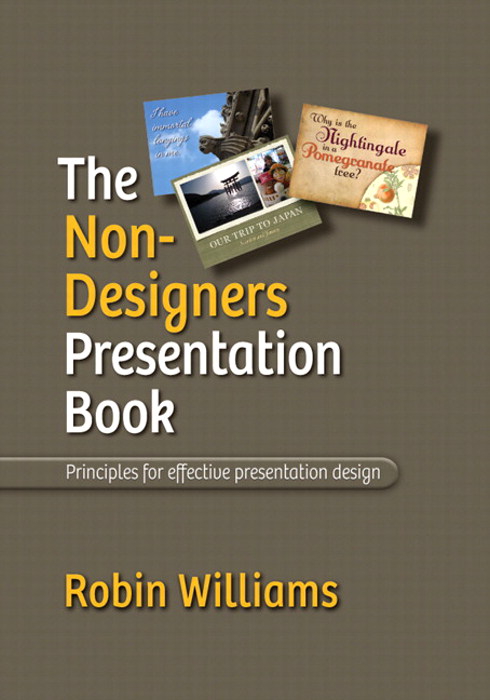 As we prepared for this week's ActivInspire Summer Institute one of my team's goals was to start developing a common language of multimedia instruction by to reviewing current literature and the work of our Promethean action research group.  My team and I took a look at books from various authors including:
However, my favorite text happened to be the one with the least catchy (in my opinion) title – The Non-Designer's Presentation Book by Robin Williams.  While I have previously read Presentation Zen and modeled many of my presentations after Reynolds' work, I loved the very practical and somewhat witty nature in which Williams writes.  Right from the beginning Williams starts off with the idea that your presentation is not about PowerPoint vs. Keynote vs. ActivInspire – its about you and your story.
"Although this book focuses on the design of your computer presentation, the primary thing to remember is that your presentation is not merely the computer file – its you.  YOU give the presentation and your computer file simply helps you in that task…All the graphics and animation and audio and video that go into your project are held together and presented by you.  You are the star."
Williams' idea, that its not about the file – its about what you have to say and how the file will help you deliver your message, made me reflect back to a summer read from a few years ago – The Influencer: The Power to Change Anything.  In nut shell this book deals with the idea that the power to change minds and attitudes is often starts with compelling narrative.  Quite often when any of us are asked to give a presentation, we're usually trying to change some minds – whether it be a school board meeting, staff meeting, technology workshop, or classroom lesson.  Each of these examples has audiences with varying degrees of preconceived notions (or false information that needs to be unlearned) depending on the topic.  However in the end, the presenter teacher has a short period of time to facilitate a lesson or presentation based upon compelling and engaging story.  Technology and presentation software has the ability to make that story even more powerful and memorable.
While she goes on to provide very practical tips for constructing effective PowerPoint and Keynote presentations (including some awesome screenshots of various advanced menus in each program), Williams never steers from her message – that its about the story.  For me this hit home the most during the chapters on Animation and Plot.  Inherently I have always know that an effective presentation, just like an engaging story, has a compelling plot.  Similarly, animations and transitions are only useful when they act like literary devices, helping the presenter tell their story.  While I have know this idea, I have also had a difficult time verbalizing it to others.  In The Non-Designer's Presentation Book, Robin Williams has helped me (and my team) verbalize some of the key concepts in order to develop a common language for multimedia instruction.  If you are looking for a good book to improve your own presentations, I suggest checking it out.
Joe