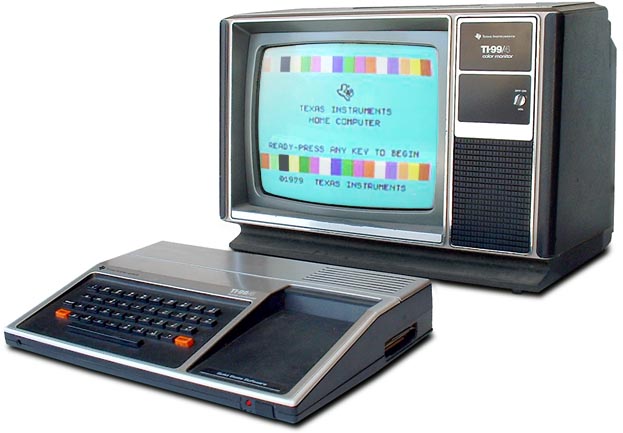 This weekend I am attending the National Writing Project's Digital Literacies writing retreat in San Antonio, Texas (actually we're in Bandera – look for it on a map).  One of our goals is to produce content for the Digital Is website, a resource definitely worth checking out for anyone who is interested in technology and writing.  Late last night we got the creative juices flowing with the writing prompt
"When and why did you begin to compose digitally or online?"
This morning I was re-reading what I wrote and kind of laughing to myself.  I thought I would share my post here
Wow…let me think…that was a really, really long time ago.

In 3rd grade I was bussed away to the Gifted and Talented School.  Every Wednesday I would hop on the shorter-than-normal bus with the other 8 year-old nerds and we would travel away to the one elementary school in our district for GATE day.  My first memory of being a digital composer occurred on one of those visits when each of us were taught TI Basic and were expected to produce some sort of digital masterpiece on our TI-99 computer.  TI Basic might have been very cool to an adult in 1985, but I never really understood what the Hell we were being taught to do.  All I knew is that I was supposed to type some code into the computer and make something happen.  My hope was to create an animation of the American flag and make it play the national anthem in the background – instead, after three weeks of typing in gobbly-gook code, I ended with a French-looking flag and some almost-anthem song.  Creating the stars was incredibly difficult and that was all I could really manipulate TI Basic into doing.  At that moment I decided computer programming was totally lame.  Why put in the time if you couldn't make the computer do what you wanted it to do?

A few years later we got our first home computer – an IBM PS2 Model 25.  I liked two things about this computer – minimal code to make it work and…wait for it…PRINTSHOP!!!.  Any child of the 80s or early 90s can probably remember this amazing program. You could sit in front of the screen all day long and craft calendars, signs, and post-origami greeting cards.  Our creative freedom running rampant, my brothers and I would make banners all day long and would sit in wonderment as the dot-matrix printer would zoom back and forth.  I am pretty sure my parents sat in wonderment at the amount of paper and printer ribbon we managed to run through.  But, hey, at least we weren't roaming the streets.

From that point on, composing digitally was always part of my life whether, as long as it didn't involve having to type any computer code.  I initially started with tools like Word Powerpoint, and email, but then moved on to more advanced programs like iMovie, Hyperstudio, and Photostory.  However, my first foray into online publishing actually didn't really occur until around 2005.  My husband, Kelly, had met a couple in San Francisco and was completely enamored by the fact they had documented so much of their daily life online.  He wanted to start a blog and I kind of followed.  Initially the blog focused on the mundane – home remodels (somewhere there is actually a new toilet post), motorcycle rides, and vacations (we once blogged the entire road trip from Modesto to Seattle).  Pretty soon, though the posts lead to political thoughts and observations of the world around us.  What really kept us publishing was the fact we had an audience.  Some of our readers were family members, while others were random strangers we never met.  As a matter of fact, one time we had a huge international audience when a post was picked up by a nationally read LGBT blog when a construction worker who was working on our kitchen remodel left a hand-written sign in the bathroom that said, "Repent to Jesus Now!"

Around the same time digital composing made its way into my classroom through the use of Powerpoint, Moodle, and other online resources.  However, online publication didn't really appear until the spring of 2007 when I blogged with my students for the first time.  During first period on the Friday before Spring Break my students asked if I would be posting pictures of my trip to London the following week anywhere online.  I thought for a moment and decided, "What the heck…how about a blog?"  So within a matter of minutes I had Mr. Wood's Trip to London set up on Blogger.  Each day as Kelly and I toured London's sites we would snap pictures and that evening I would post them to the blog with a description of what we saw and visited.  Every morning I woke up with 5-10 comments or questions from students who were following along back in Modesto.  Needless to say, I was hooked again.  I had another audience, my students, and I was ready to become a digital classroom composer.

Since then, we've used blogs, wikis, and a variety of additional tools to digitally write in my classroom.  Along the way I've had to conquer a few of my 3rd grade frustrations and get comfortable with a little computer code here and there, but I've also put those hours and hours of graphic design skills learned in Printshop to use.  Perhaps there was a method to the madness in my 3rd grade GATE class after all.
Okay, time to get back to work and what I'm really supposed to be working on…  Here's a hint.  Its my topic idea in 140 characters or less (everyone loves Twitter here).
Map lovers can become prolific writers who love HTML by sharing their geospatial story. #nwp
With any luck you may be able to watch me write here.
Joe